FRANKENSTEIN EUROPEAN K9 TRAINING BASE *24. 4. 2015

Owner: Donald Harris, USA

ZVV 1, BH
Czech körung, 1st class, 5X1/P
HD normal, ED normal, spond. 0, DM clear

Frankenstein is trained for IPO and ZVV. He is prepared for BH and IPO 1. Has high drive and very good temperament. He loves people, children and other dogs. Franky is contact with people, loves work. He would be ideal family dog.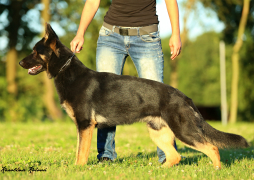 Pedigree:
Vito vom Waldwinkel
SchH 3, HD/ED normal

Tom van't Leefdaalhof
IPO 3, SchH 3, World champion WUSV 1999, HD/ED normal

Qerry von Haus Antverpa
IPO 3, SchH 3, part. WCH WUSV

Ruth van 't Leefdaalhof
IPO 3, SchH 3, HD normal

Dixi vom Hause Santiages
SchH 3, HD normal

Fado von Karthago
IPO 3, SchH 3, FH 1, World champion WUSV, part. WCH FCI, HD normal

Jenny vom Bayerischen Oberland
SchH 3, FH 1, HD normal

Cher Bílý trpaslík
ZVV 1, HD normal

Floh vom Patscherkofel
IPO 3, SchH 3, FH 2, part. WCH WUSV and FCI, HD normal

Quax vom Patscherkofel
SchH 3, HD normal

Yana vom Patscherkofel
SchH 3, HD normal

Denny Bílý trpaslík
IPO 3, IPO FH, ZVV 3, SchH 3, HD normal

Grim z Pohranicni straze CS
FH 2, SchH 3, ZVV 3, ZM, ZPS 1, IPO 3, part. WCH WUSV, HD normal

Betty z Malsskeho udolí
IPO 3, SchH 3, ZPS 1, SVV 1

Qwino Chemlový Kvítek
ZVV 3, ZPO 2, IPO 3, ZPS 2, FH 2, SchH 3, HD normal

Lim Gymor CS
SchH 1, IPO 2, HD normal

Cir Bobří Řeka CS
ZM, IPO 3, ZVV 3, HD normal

Fatty Gymor CS
IPO 3

Cesy Radhol CS
FH 1, SchH 3, ZPS 1, IPO 3, HD normal

Gero Chmelový kvítek CS
ZVV 2, SchH 3, IPO 3, part. WCH WUSV and FCI, HD normal

Poly z Podskalky CS
ZVV 2, IPO 3

Amálka z Hromadného
IPO 3, ZVV 1, ZPS 1, FH 2, FPr 3, HD normal

Jef z Daskonu CS
IPO 3, SchH 3, part. WCH FCI, HD normal

Klen SNB CS
SchH 3, ZVV 1, part. WCH FCI and WUSV, HD normal

Bissy z Daskonu CS
IPO 3, ZVV 1, HD normal

Taxa z Dudákova
ZVV 1, IPO 3, SchH 3, ZPS 1, HD normal

Sonny Gymor CS
SchH 3, ZVV 1, IPO 3, HD normal

Roza z Dudákova
ZVV 1, IPO 1, HD normal