BORISSA AVAŠÍR * 1. 1. 2010

HD-A, ED-0



2 years old black female, strong sceleton, elegant physique, excellent origin, with any exterior defect. Very ebullient, contact, not agresivly, very teachable, handy. The basic of tracking training. The obedience on BH level, the protection work on the highist drive level, available for every activity, sport and top breeding. She loves a children and cats. Knows to live in the house. Will be lovely friend. Now is in training for next level of work .

Ask for actually price.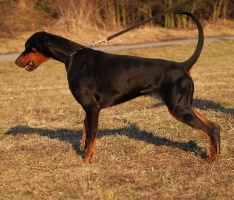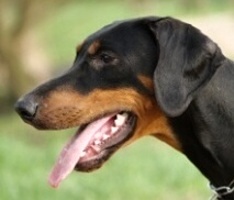 Father: Chris z Danova - Champ.PL,BOB, BOG R.CACIB, R. CAC, 3xNPwR, BH, HD-A, ED-A
Mother: Graciella Halit Paša -Grand Ch.,Champ.ČR,Ch.SR,Jun.Ch.ČR,7xBOB,CACIB,R,CACIB, excellent,IPO 3,SchH1, ZTP, HD-A
Pedigree:
Chris z Danova
BH,Champ.PL,BOB,BOG,R.CACIB,R.CAC, ED-0, HD-A
Volvo Betelges
SVV 1,BH, ZTP V 1 A, HD - A
Gino Gomez del Citone
IPO 1,SchH 3, Inter.Ch.,Körung V1A ZTP, HD-A
Champ.YU Vanja Sawages
IPO 1, HD - A
Doreta z Danova
IPO 1,BH,SchH-A, HD-A
Bret Pasecké údolí
ZM, OP 1, HD-A
Jalka Bobrava
IPO 1,ZVV 2,ZLP 2, OP, ZZP 1,5 AV-A
Graciella Halit Paša
Grand Ch.,Ch.ČR,Ch.SR,Jun.Ch.ČR,7xBOB, CACIB,R.CACIB,IPO 3, SchH 1, HD-A
Tyson di Campovalano
SchH 3, ZTP V1A, HD-A
C.I.B. Gamon di Campovalano
ZTP, SchH 1,IPO 2, HD-A
Matisse di Casa Balestrieri
HD-A0
Britannica Goldest Diamond
Champ.ČR, Ch.SR,CACIB ,ZOP,ZVV 1, BH, HD-A
C.I.B.Jivago v.h.Wantij
Körung 1A, ZTP, IPO 3, HD-A
C.I.B.Ester Dobgar
SchH 1, HD-A
more pic. of Borissa here