CORD OD ZRZAVÉ DRAČICE * 29. 4. 2010

HD-A, ED - 0, BH

Sable, male with outstanding temperment, trained for IPO, deep full bite. Suitable to carry on in sport as well as family protector,military or police work.He is fully socialized and good with children. The excellently pedigree .

Ask for actually price.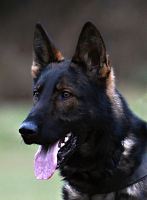 Father: Basko ze Svobodného dvora - IPO 3, ZM, ZZO, ZVV1, ZPO 1, ZPS 1, FPr. 3, SchH/VPG 3, FH 1, Police examCZ Körkl.1, HD - A, ED-0
Mother: Quinta ze Stříbrného kamene - ZVV 1, IPO 3,Kl. 2, HD-A



•

Pedigree:
Basko ze Svobodného dvora - IPO 3, ZM, ZZO, ZVV1, ZPO 1, ZPS 1, FPr. 3, SchH/VPG 3, FH 1, Police examCZ Körkl.1, HD - A, ED-0
ZVV 1,ZVV 2, Kkl 2, HD-A
Vito v.Waldwinkel
BH, AD, SchH 3, HD - A ,Körkl.1
ÚM WUSV Tom van´t Leefdaalhof
IPO 3, SchH 3, CACT, Körkl 1.,Lebenszeit(Belgien), HD-A ,Belgien DNA
Dixi v.Hause Santiages
SchH 3, HD - A ,DNA
Cher Bílý trpaslík
ZVV 1, Kkl.1, HD-A
ÚMS FCI Floh v.Patscherkofel
IPO 3,SchH 3, Körkl 1.Lbz., HD-A
ÚM ČR Denny Bílý trpaslík
ZVV 3,ZPS 1,IPO 3,IPO-FH, SchH 3, Kkl.1, HD-A
Quinta ze Stříbrného kamene
ZVV 1, IPO 3,Kl. 2, HD a(1/1)
Gringo v.d.Mohnwiese
IPO 1, SchH 3, BH, UV,Körkl 1., HD-A
ÚM WUSV Tom van´t Leefdaalhof
IPO 3, SchH 3, CACT, Körkl 1.,Lebenszeit(Belgien), HD-A ,Belgien DNA
Bleia v.d.Mohnwiese
SchH 3, HD-A ,DNA gpr.
Bemoan Bee
ZVV 1, IPO 3, ZPS 1,SchH 3, FH 1,Kkl. 2, HD-A
Asron v.d.Bondenau
DNA, HD-A
Tru Grits Freda of Twin B
HD-A
more pic. of Cord here