MARTA MORAVIA ARTEX * 21. 8. 2009

ZVV 1, BH, HD-A, ED - 0

Sable, bigger-sized female. Very nice, can be in family. The excellently pedigree.
Marta is a mother of our C litter in the European K9 training base kennel. She is a very nice mother.
Her son you can see HERE. Her daughter you can see HERE.
Now is Marta mated by Basko ze Svobodného dvora, again. Is for sale! Are expected only famously puppies. The date of mating is 29th of June. Can go just after confirtmation of pregnancy.

Ask for actually price.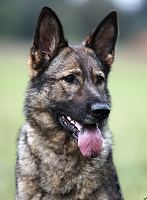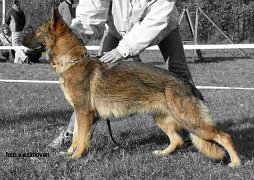 Father: Zero Betkin dvor - SchH/VPG 3 Körkl.2, HD - A, ED-0
Mother: Dasty Moravia Artex - SchH 3, FPr3, IPO 3,Kl. 2, HD-A
Pedigree:
Zero Betkin dvor
SchH 3, Kkl.2, HD - A, ED-0
Zoran Ben-Ju
SchH 3, IPO 3,HD - A ,Körkl.1
Kinte v.Sickinger Moorwerk
IPO 3, SchH 1, CACT, Körkl 1., HD-B
Tea Ben-Ju
SchH 3, IPO 3, SVV 1, HD - A
Mersi Betkin dvor
SVV 1, Kkl.2, HD-B
ÚM SR Nillo Abel
IPO 3,SchH 3,SVV 1, Körkl 1.Lbz., HD-A
Cedra Betkin dvor
SVV 1,IPO 2, Kkl.2, HD-A
Dasty Moravia Artex
SchH 3, FPr3, IPO 3,Kl. 2, HD-A
Janosch v.d. Germanenquelle
IPO 3, SchH 3, BH, DNA, Kkl 1., HD-A
Xato v.d.bosen Nachbarschaft
IPO 3, SchH 3, HD-A , DNA
Boa v.d.Germanenquelle
SchH 3,IPO 3, HD-A ,DNA gpr.
Cinda Moravia Artex
ZVV 1, IPO 1, SchH 1, FPr 1,Kkl. 2, HD-A
2*ÚM ČR Baltazar Galán CS
IPO 3, SchH 3, ZPO 1, ZVV 1, Kkl 2., HD-A
Perry z Blatenského zámku
IPO 2, SchH 1, Kkl 1., HD-A